Gift Shop
The Historical Society has many wonderful books and other items related to Watertown history available for sale to the public. They make great gifts!
Watertown's Natural Landscape: an Introductory Atlas by Marilynne K. Roach

$10.00 including MA sales tax

Explore 42 original maps depicting parts of a town changing over the centuries - Watertown's geology, some of the many streams that gave the town its name, ponds, woodlands and land use, and especially the Charles River itself, section by section, from its salt water past, through its factory era, to present park land.

Illustrations of the Past: Paintings of Watertown, Massachusetts by Samuel Emrys Evans
$5.00 including MA sales tax
In the 1970s, Watertown Savings Bank commissioned muralist Samuel Emrys Evans (1917-1997) to create a series of paintings depicting Watertown's history for the walls of the bank located at 50 Main Street in Watertown Square. These oversized, colorful paintings focus on historic sites, important structures and unique inventions or events from 18th, 19th and 20th century Watertown. This soft cover booklet includes full color prints of the paintings, as well as narratives of the historic subjects.
Crossroads on the Charles by Maude de Leigh Hodges, edited by Sigrid Reddy Watson

$25.00 including MA sales tax
This lavishly illustrated book tells the story of Watertown from its founding in 1630 up through the 1980s and illuminates the events that have contributed to its character. A must-have for the Watertown history scholar.
Watertown Echoes: A Look Back at Life in a Massachusetts Town by Sigrid Reddy Watson

$10.00 including MA sales tax
A compilation of Ms. Watson's weekly column on Watertown history printed for a number of years in the Watertown TAB. It covers topics such as Watertown during the Revolution, the Arsenal and other industries, people, buildings and houses. From the annual walking of the town boundaries, to appropriate punishment for a farmer's disorderly swine, Watertown Echoes brings to life the history of one of America's oldest municipalities.
Images of America: Watertown by the Historical Society of Watertown & the Friends of the Watertown Free Public Library
$13.00 including MA sales tax
Published by Arcadia Press. Experience Watertown and its story as never before through 128 pages of historic photos, drawings, and other early images.
The Muse of the Revolution: The Secret Pen of Mercy Otis Warren & the Founding of a Nation by Nancy Rubin Stuart
$15.00 including MA sales tax
In the first full-length biography about Mercy Otis Warren in sixty years, Stuart explores Mercy's multifaceted talents as patriot and writer, devoted daughter, wife, mother of five and friend. This book delves into Mercy Otis Warren's highly-charged, mercurial friendship with John Adams that influenced his politics and troubled his later years
Your Grandmother: A Memoir of Mattie Coolidge Crawford by Fred E. Crawford
My First & Last Day with Grandma Coolidge by Grace Davenport Winslow
One Branch of the Coolidge Family 1427-1963 by Frederick C. Crawford
The Life and Times of Oramel Crawford: A Vermont Farmer 1809-1888 by Fred E. Crawford
$3.00 each including MA sales tax
Personal recollections, histories, family photographs and genealogies of several branches of the Coolidge family, these books were written and published by Coolidge descendants in the 1940s-60s.
Watertown Town Records, Volumes 5-6 and 8
$3.00 each including MA sales tax
Fascinating chronicles of Watertown's history, the 5th and 6th volumes of Town Proceedings, covering 1745-1769 and 1769-1792, respectively, and grouped together in a single book, bring the reader through events that took place during the American Revolution. Volume 8 continues to document Watertown's captivating history from 1810-1829 and includes detailed records of public town meetings.
Poppy's New Home by Audrey Jones Childs

$15.00 including MA sales tax

A children's book about a puppy that lived at the Boston Navy Yard, but then moved in with a family in Waterown's East End.  Based on a puppy the author grew up with, this book is a compilation of vignettes about Poppy's experiences.
Replica of Treaty of Watertown
$2.00 including MA sales tax
This high-resolution, 17 x 11 inch copy of the original Treaty of Watertown, which resides in the Massachusetts Archive on Columbia Point in the Dorchester section of Boston, is suitable for framing.
Replica of painting of signing of Treaty of Watertown
$2.00 including MA sales tax
Joe Veno's painting depicting the July 19, 1776, signing of the Treaty of Watertown hangs in the Council Chamber at the Edmund Fowle House, the Historical Society's headquarters. This color, 17 x 11 inch replica is suitable for framing.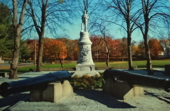 Soldier's Monument postcard
$1.00 including MA sales tax
This oversized, 8.5 x 5.5 inch color postcard depicts the Civil War Soldier's Monument and adjacent cannons located in Saltonstall Park on Watertown's Main Street following a 2013 restoration.
Edmund Fowle House note cards
$2.50 each or $10.00 for a packet of 5 color note cards including MA sales tax
$1.50 each or $7.50 for a packet of 5 black and white note cards including MA sales tax
The front of these lovely, blank note cards includes a color photo of the Edmund Fowle House or the Historical Society's logo, a line drawing depicting the Fowle House.
Metal feather bookmarks

$3.00 each or $5.00 in a gift box including MA sales tax
Simple, elegant and thin, these sturdy 4.5 x 1.0 inch bookmarks are available in shades of gold, silver and brass, as well as black, and include a white tassel.
Historical Society of Watertown tote bag

$10.00 including MA sales tax
Features a line drawing of the restored Edmund Fowle House on the front. These heavy-duty bags, sturdy enough to carry all your books, are beige with black trim.
To purchase any of these items, please contact Joyce at 781-899-7239 or This email address is being protected from spambots. You need JavaScript enabled to view it..