Exhibits
The Art of Franklin Jones
North Parlor, Edmund Fowle House
Opening Reception June 30, 2019, 1:00 - 4:00 PM
On view at no charge during special events and normal museum hours from 1:00 - 4:00 PM on the third Sunday of most months; see Visit page for specific dates.



This exhibit highlights the life and career of artist and author Franklin Reed Jones (1921-2007).  A graduate of Watertown High School, Jones was taught and mentored by art teacher Harold Moody in the public school system during the Great Depression.  He persevered with continuous learning to make a career as an artist and instructor, rising from admirer of Norman Rockwell's work to Rockwell colleague.  Works on display from the HSW collection and provided by the Jones family include an original painting and an original linoleum print, as well as printed examples of his sketches, illustrations and additional paintings.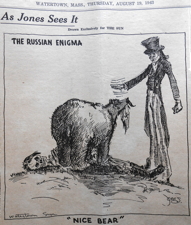 Dedicated to the memory of Franklin's wife, Florence Hull Jones.