Resources
Catholic Mount Auburn Cemetery Project
Almost single-handedly, William A. McEvoy, Jr., has become a one-man "Friends of Catholic Mount Auburn Cemetery."  Already a volunteer at Mount Auburn Cemetery researching historical data utilized by their docents for tours and talks, Bill became interested in the adjacent Catholic Mount Auburn Cemetery (also known as Sand Banks Cemetery and Cottage Street Cemetery) while researching local Civil War soldiers for programs at Mount Auburn commemorating the sesquicentennial of the Civil War (1861-1865).  After finding that at least 140 Civil War veterans were interred at Catholic Mount Auburn, his focus soon extended to the rest of this mainly overlooked burial ground.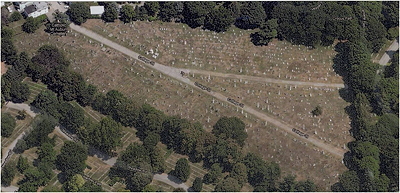 An aerial view of Catholic Mount Auburn Cemetery, surrounded by Mount Auburn Cemetery
with Cottage Street entering from the upper left corner

The cemetery is owned by and receives minimal care from the Archdiocese of Boston.  Not all of the graves are marked.  Many of the monuments are weathered or in need of repair, have fallen or are at risk of falling.   There are 23,000+ people buried in less than 7 acres of land.
A satellite view of Mount Auburn Cemetery reveals its lush tree cover, while Catholic Mount Auburn Cemetery appears as an inserted wedge of barren ground.  Catholic Mount Auburn is located entirely in Watertown.  Despite its Cambridge street address, 93% of Mount Auburn Cemetery is also located in Watertown.
In 2010, the Historical Society of Watertown put Bill in touch with Ken Rand, a former Historical Society board member who had done research on Catholic Mount Auburn in the 1990s and made copies of the records that were held at the Calvary Catholic Cemetery in Waltham before the records were transferred to the Catholic Cemetery Association at Holy Cross Cemetery in Malden.  In the late fall of 2010, Bill and a few Historical Society members met Ken at the cemetery for a walk through and to hear background on Ken's research.
Ken's copies of Catholic Mount Auburn records originated from a bound book and noted the names of those interred and the dates of their burials, listed by month.  The book included pages from January 1, 1885 to 1947 (approximately 6,500 names), with the exception of January 1, 1910 - June 1, 1911.  He also had copies of some cemetery lot cards from burials after 1947.  Ken made this information, as well as a range map of the cemetery that he had prepared, available to Bill and the Historical Society.  Bill began to enter the data into an Excel spreadsheet, as well as Find A Grave, in 2012.  This became the initial goal of the project.
Continuing to search for missing records, Bill researched names in the Archdiocese of Boston's Archives in Braintree, gaining access to a burial book documenting the first burial in April, 1854, through June, 1882 (approximately 16,000 names).  By the end of 1864, 99% of the 5,321 lots had been sold.  Records are missing from July 1, 1882, through December 31, 1884.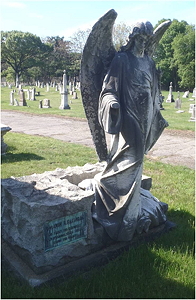 The grave of The Rev. John Halloran

Bill then searched Ancestry.com, FamilySearch.com and the Massachusetts Archives' 1841-1910 vital records database for relevant records.  He became interested in the causes of death, occupations, residences, places of birth and death, spouses' names, maiden names, and parents' names and places of birth, as he entered this information in his spreadsheet.
A review of the vital records for deaths from 1854 to 1920 revealed a wealth of information.  Most people buried at Catholic Mount Auburn Cemetery resided in Boston's North End, Charlestown or East Boston.  The next most common place of residence was Cambridge.  Most of the lots were purchased by people who were born in Ireland; it is likely that these individuals immigrated around the time of the First Irish Famine or were post-immigration descendants.  The study also reveals that Catholic Portuguese immigrants, two Catholic Africans, thirteen priests, nine physicians and twenty-five known victims of homicide are buried here.
When the data is sorted by city/town or street, the causes of death indicate that life was difficult for the immigrants of the First Famine.  Twenty deaths by suicide are documented, as well as many deaths from teething, cholera, croup, bronchitis, childbirth in older women, work related accidents that left families without support and additionally many children who drowned or were scalded.  A review of the deaths on certain streets indicates that many members of families died within short spans of time.  Most male immigrants were laborers and many died in workplace accidents, only to be replaced by another immigrant laborer.  The most common cause of death was communicable lung diseases.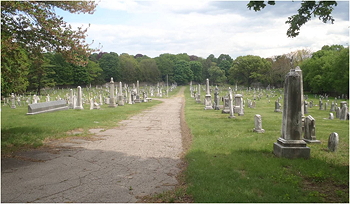 A view of the cemetery from the Cottage Street entrance

Bill noticed that burials at Catholic Mount Auburn Cemetery were often recorded as having taken place simply at "Mount Auburn."  This frequently leads to confusion when someone searching for the grave of a relative arrives at Mount Auburn Cemetery and discovers that their relative's burial is not noted in the cemetery's records.
On a personal level, Bill discovered that his maternal great-great-grandparents are buried in an unmarked grave at Catholic Mount Auburn Cemetery.  A few of his distant cousins are also buried there.
In 2013, Mr. McEvoy was presented with a Historic Resources Preservation Award by the Watertown Historical Commission for this work.  He continues to find valuable information and has generously shared the results of this ongoing project as a downloadable Excel spreadsheet and a description of his methodology.  His database has also been shared with the Watertown Free Public Library, the Watertown Department of Public Works and the town's Veterans Agent.  Additionally, Bill presented his work to the HSW in a talk titled Documenting Catholic Mount Auburn Cemetery in Watertown's East End on March 23, 2016, and, more recently, self-published a book on the topic titled Catholic Mount Auburn Cemetery East Watertown, MA.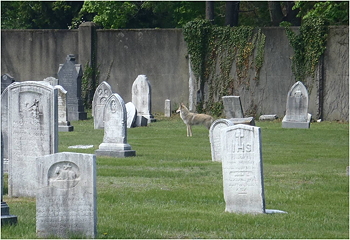 The concrete wall dividing Catholic Mount Auburn Cemetery from Mount Auburn Cemetery serves
as the backdrop for this photo of a coyote among the Catholic Mount Auburn gravestones